Try as I might, I have finally come to terms with the fact that I can only manage to shop at one store each week. And that has to be Publix. So, after looking around for another solution for organic, local fruits and veggies, I have signed up at
Nature's Garden Delivered
.
They deliver natural and organically grown seasonal fruits and veggies (and other great meats, cheeses, milks and spices) right to your doorstep! There are a few different ways to customize your box – fruits only, veggies only, mix of both in large, medium and small sizes. I went with the medium box and have it delivered every other week for $45.
Our first box had celery, onions, rocky rose potatoes (divine), pink lady apples, red grapefruit, anjou pears, red peppers, green squash, honey tangerines, bananas, tomatoes, red russian kale, green leave lettuce and green onions! Everything was fresh and delish! We used every.single.thing. in the box by the time the next one came and found the size to be perfect for the four of us.
The second box had braeburn apples, bananas, broccoli, carrots, green kale, romaine lettuce, yellow and white onions, mid-season oranges, bosc pears, red roasting potatoes, yellow squash, honey tangerines and tomatoes. As soon as the PCP got home from school he ran for the front porch saying "I CAN'T WAIT TO SEE WHAT'S IN THE BOX!!!!"
As soon as I opened the box I remembered seeing this
Kale and White Bean Soup
recipe on Pinterest. I had everything on hand and everyone gobbled it up! It's a definite keeper!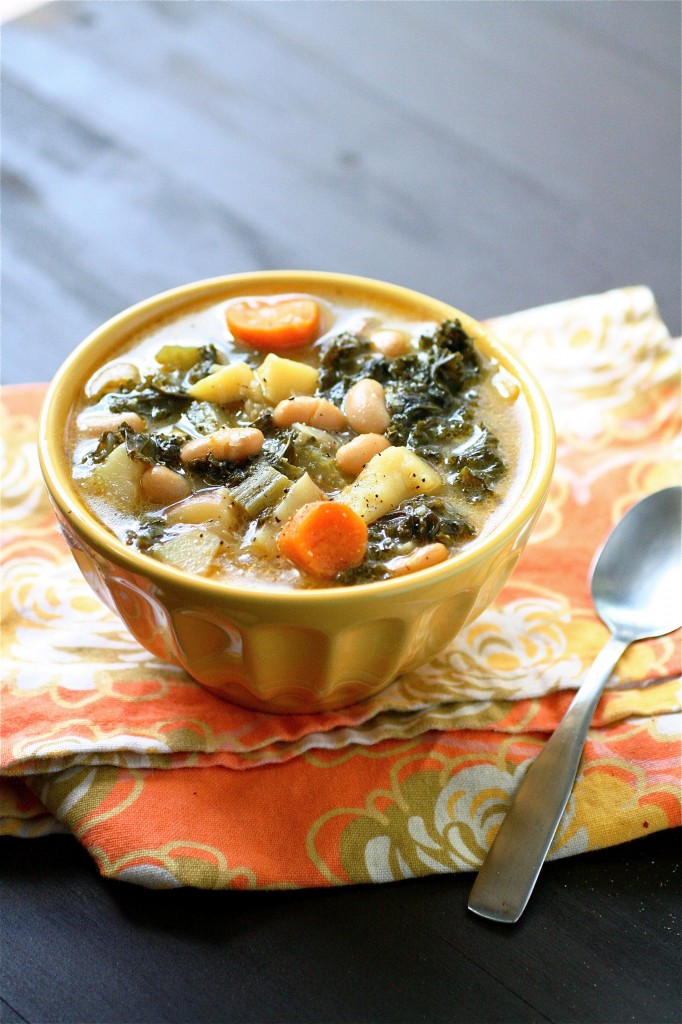 Back to the box… we've gone with exactly what comes in the base box both times because we really aren't picky eaters. That being said, each week you get up to five substitutions for things you might not like or want more of. You can also put items on a "never include" list to be automatically excluded as they come up. You can hold delivery if you are on vacation or just don't need it. There is no contract and you can cancel at any time. Your credit card is charged on delivery.
I have not been compensated in any way for this rave review :-) I have just found the service and produce to be amazing, it saves time in my week AND I know that I'm doing good for my family and for my local economy.
In the time it took me to snap that second pic and write this little post, things have gone completely haywire. The PCP is being dragged around the kitchen by the seat of the baby's pants…
Clearly I need to regain some control around these parts :-)
xoxo